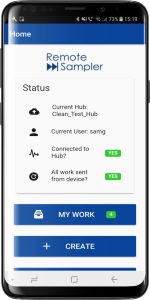 We're pleased to announce that after a significant amount of development work we've completed a number of exciting platform and infrastructure changes to the Remote Sampler system. These changes allow us to provide the following key capabilities to existing and new users alike :
Multiple device support
The Remote Sampler mobile software app is now fully cross-platform and supports Android, iOS and Universal Windows Platform (UWP) devices.
Cloud system
The Remote Sampler system can now be installed and operated in the cloud running on the world-leading Amazon Web Services (AWS) platform.
Collectively these changes bring a broader range of choices to our customers. We believe the main benefits these changes bring are :
Faster and easier system implementation
Less 'on premise' implementation effort when connecting to laboratory Information systems (LIMS & schedulers) means that implementation is simpler and incurs less internal IT resource making it faster and cheaper to deploy a Remote Sampler system.
More device choice
While ruggedized devices are still supported, samplers now have the choice of using Android or iOS based tablets or phones to reduce the number and weight of 'gadgets' they have to carry around. Device types can be mixed and matched on a single Remote Sampler system.
Subscription not capex
The new cloud and device selection also clearly brings cost savings compared to a traditional 'on premise' solution with ruggedized devices. However it also offers us the opportunity to stagger the solution cost using subscription pricing. Which is a pricing model that is already familiar to all of us.
We think you'll like the new version of Remote Sampler. Please take a look at the introduction video and let us know if you'd like more information or a demonstration please contact us on t: +44 1928 513535 or e: sales@csols.com