Overview
Obtaining samples is a critical and labour intensive task carried out by organisations of all types. The actual process of collection and recording has benefited little from advances in computerisation. However, driven by the overwhelming need to:
reduce the costs of collection
provide a paperless chain of custody throughout the life of the sample
to meet regulatory requirements e.g. UK Drinking Water Inspectorate (DWI), MCerts, UKAS, Food Standards Agency
to take full advantage of those highly automated systems like LIMS already in place in laboratories
CSols, working in conjunction with Labmotive Ltd, have developed Remote Sampler: a ruggedized mobile data collection solution designed specifically for use in the water and environmental sectors.
Water Quality Technician using Remote Sampler
Remote Sampler Design
The Remote Sampler system allows a team of field technicians using mobile devices to receive and complete sampling jobs scheduled and managed from a central "hub" application. Consequently, a centrally located scheduler using the hub can extract sample, bottle and test information from LIMS and flexibly assigned to the different devices and users in the sampling team.
Bottle collection
When bottles, tubes or plates are used to collect samples it is important to ensure the unique identifier on the container is correctly matched to each sample and that the time and position of the sampling is taken. Additionally, Remote Sampler uses the built in device barcode reader to confirm collection of the sample and makes use of the GPS capabilities of the device to capture co-ordinates for the exact position of collection.
On site testing
The user can record data or carry out tests while on site. The Remote Sampler first prompts the sampler, then guides them through the process to ensure all of the correct information is captured. Furthermore, user input can be validated against pre-configured limits and a variety of conditional logic can be configured to build up a comprehensive and fully featured on site workflow.
Audit & Chain of Custody

 
Remote Sampler has a detailed audit trail built in to ensure that each sample has a full chain of custody from collection to the lab. The data held in the audit trail is objective and provides an independent record of sampling events that can be provided to the regulator during any sample audit.
Handheld Computers
Remote sampling is carried in a wide range of different settings by personnel with varying roles and expertise. CSols used the following criteria to select the right handheld device for Remote Sampler:
• Ruggedized – robust for use in harsh environments and handling
• Large screen for easy to use operation with menus and wizards
• Usable with finger and pointers
• Support for , GPRS / Mobile Broadband and Bluetooth
• Incorporates support for barcode or RFID label reading
• Usable with finger and stylus / pointer
• Uses a common operating system for portability as new hardware becomes available.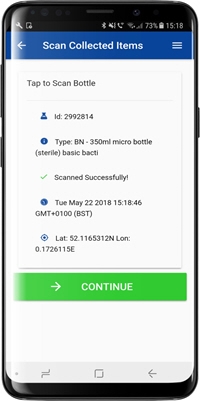 Summary
CSols Remote Sampler is a powerful and flexible system to support the recording of external samples of all types.
Real experiences from projects carried out in the Water Industry have proven that the following benefits are possible:
•  Significant time savings during the processing of schedules and reception of samples
•  Flexibility to cope with emergency samples and switches of collection runs
•  Elimination of all paper transcription errors
•  Improvements in sample integrity and accuracy of data collection
•  Rock solid compliance with a full location audit
Further Information
For a copy of the Remote Sampler Technical article, further information or a demonstration of Remote Sampler please ask via our enquiry page or email us at: sales@csols.com.