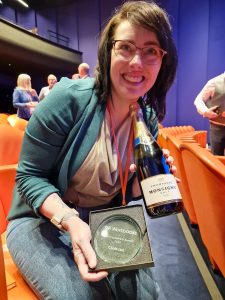 CSols have been using the Workbooks CRM system for over 10 years to help manage its business and are delighted to announce that we have won the Workbooks Annual CRM Excellence award. Presented at their annual 2023 customer meeting held at Ham Yard in London recently, here is CSols' Gemma Nash after being presented with the award.
Workbooks is cloud based system with a modern browser based user expereince, which allows all CSols employees whatever thier location, to easily share and collaborate using the same 'live' information, across the whole CSols business process. Routine functions used include capturing and managing lead and customer data, processing all customer transactions from quotation generation to invoicing and support renewals, through to reporting and data analysis.

"Overall, Workbooks has been a game-changer for our business. It's helped us streamline our processes, improve collaboration, gain valuable insights, and deliver better customer experiences. We couldn't be happier with the results!"  explains Gemma.
For more information about CSols' use of Workbooks please visit the Workbooks Customer stories web page or download a copy of our Case Study.