CSols Remote Sampler™
Obtaining samples is a critical and labour intensive task carried out by organizations of all types. The actual process of collection and recording has benefited little from advances in computerization. However driven by the overwhelming need to:
reduce the costs of collection,
provide a paperless chain of custody throughout the life of the sample
to meet regulatory requirements e.g. UK Drinking Water Inspectorate (DWI), MCerts, UKAS, Food Standards Agency
to take full advantage of those highly automated systems like LIMS already in place in laboratories
CSols have developed the Remote Sampler ruggedized handheld Windows tablet PC solution for external remote sampling and sample collection.
Remote Sampler Design
CSols Remote Sampler solution consists of ruggedized handheld tablet PCs (usually one per sampler). The system also utilizes a hub workstation based in the laboratory which can also be deployed over Citrix. The hardware is then combined with software and utilities to help users integrate the system easily into their organization's routine operations.
Handheld Computers
Remote sampling is carried in a wide range of different settings by personnel with varying roles and expertise. CSols used the following criteria to select the right handheld device for Remote Sampler:
• ruggedized – robust for use in harsh environments and handling
• large screen for easy to use operation with menus and wizards
• usable with finger and pointers
• support for , GPRS / Mobile Broadband and Bluetooth
• incorporates support for barcode or RFID label reading
• usable with finger and stylus / pointer
• uses a common operating system for portability as new hardware becomes available
PDAs/Tablet PCs from Gotive, Motion Computing and Panasonic have been successfully deployed.
2017 Developments allow for Android and IOS multi device support: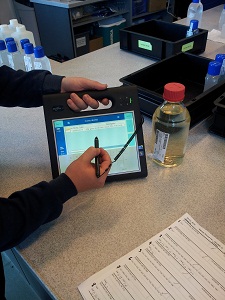 Motion Computing F5 Tablet PC
Hub Workstation and LIMS
A workstation normally located in the laboratory or sample storage location running the CSols Hub software provides the interface between the handheld devices and the laboratory LIMS or IT system. Planned or ad hoc collection runs and associated instructions are extracted and downloaded and later uploaded to all active handheld devices.
Making life easy for the sampler
Design of the software on both the handheld and hub systems has then been done in combination with a number of end users to maximize usability and to meet their technical requirements. Here a few of the key capabilities of Remote Sampler system are described in more detail.
Bottle collection
When bottles, tubes or plates are used to collect samples it is important to ensure the unique identifier on the container is correctly matched to each sample and that the time and position of the sampling is taken. The Remote Sampler software uses the built in barcode reader and GPS co-ordinates to capture this data.
On site testing
In the event that the sampler needs to record additional parameters or carry out tests while on site, the Remote Sampler software first prompts the sampler, then guides them, via a wizard, through the process to ensure all of the correct information is captured.
GPS tracking and phone connectivity
The inherent connectivity incorporated into the handheld device provides a number of useful functions:
•  recording the co-ordinates of the collection point
• transmission of the sampling event to the laboratory in advance of arrival to help with scheduling
• helping the sampler to find the sample location. Especially useful for emergency, ad hoc sampling or rarely sampled locations.
Summary
CSols Remote Sampler solution is a powerful and flexible system to support the collection and recording of external samples of all types.
Real experiences from projects carried out in the Water Industry have proven that the following benefits are possible:
•  significant time savings during the processing of schedules and reception of samples
•  flexibility to cope with emergency samples and switches of collection runs
•  elimination of all paper transcription errors
•  improvements in sample integrity and accuracy of data collection
•  rock solid compliance with a full location audit
CSols Remote Sampler is helping Intertek in the Netherlands
monitor Dutch Blue Flag beaches
Please click here to download the case study.
More information
For a copy of the Remote Sampler Technical article, further information or a demonstration of Remote Sampler please ask via our enquiry page or email us at: remotesampler@csols.com.
CSols Ltd. The Heath, Runcorn, Cheshire, WA7 4QX, UK
Tel:   +44 (0) 1928 513535  Fax: +44 (0) 7006 061106
Web: www.csols.com