Providing software and services to help laboratories reach 
'Beyond the Technology' to improve efficiency and result quality
                            CSols Xmas 2013 Interface Newsletter
Seasons Greetings and Happy Holidays from all of us at CSols
Welcome to the Christmas 2013 release of our Interface Newsletter. Our continued aim is to produce this newsletter regularly throughout the year, to help you get more from CSols software as well as to learn about new ideas or software applications that will improve efficiency and quality in your laboratory. Thank you in advance for taking some time to read this newsletter, we hope you find it useful and have a great Xmas break.
Laboratory Informatics New Year Resolution
Have a Happier, More Productive New Year
Implement CSols Solutions and Improve your Laboratory Informatics
How CSols can help you and your Lab
We have been helping laboratories interface instruments since 1990 and producing software for handheld PDA and Tablet PC solutions since 2008. More recently
,
we have added AqcTools software and RFID labelling to our portfolio. As always
,
we'd be happy to discuss with you any upcoming projects or requirements in more detail. See below for further details of CSols products and solutions:
CSols AqcTools for Charting and Statistical Data for Quality Control Samples
Is that pending UKAS, DWI / ISO 170275 or ISO 15189 audit stressing you out?

Do you have too many Excel spreadsheet charts and macros to update and review?

Is there increasing commercial pressure to get those Quality Results delivered on time?
AqcTools allows users to dynamically display AQC charts so that users and Quality Managers can more readily meet regulatory requirements for investigating and actioning limit failures and rule breaches. To this end the software allows Quality Personnel to view many reports including
:
exceptions, trend and uncertainty of measurement reports. See below example of a configurable AQC chart:
An extremely powerful feature of AqcTools is reporti
ng that simplifie
s regulatory compliance eg with UKAS, DWI, EU, EA, NEN, CEC and ISO regulations, guidelines and standards.
AqcTools has standard report selection criteria that include reporting by Year, Month, Date Range; Selection of one or all AQCs, selection by Data Group or a specific AQC and other stored AQC data. The following AqcTools reports can be run as required:
Trend Summary

Exception Summary

Micro Exception Summary

Analyst Related Exceptions

Excluded Results
Dataset Comparisons
which include:
Trend Period Summa

ry

by year or month which can be used to compare sets of data to check for any variations in 'method' performance. Can be run on a monthly or annual basis.

Limit Suitability

which enables the user to review the chosen set of data, for an AQC /DataGroup, for a specified time period against target values and current limits. F & T tests

are automatically calculated and the results of these can be displayed.  See below for an example Limit Suitability Report.
Uncertainty of Measurement (UoM)

which is required by some laboratories can also be calculated and results displayed in the report – see above example.
All data displayed in the reports can also be exported to Excel. 
For further information or a demo of CSols Industry Leading, Trusted, Field Proven, Analytical Quality Control and Exceptions Management Software please email us at:
enquiry@csols.com
CSols Remote Sampler™ for External Site Remote Sampling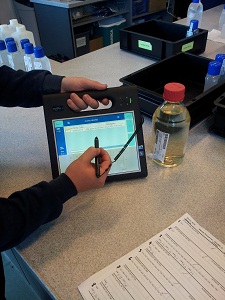 CSols developed the Remote Sampler ruggedized handheld PDA / Tablet PC solution for external sample collection.
It has been implemented at major European Water Companies.
CSols Remote Sampler reduces the costs of collection, provides a paperless chain of custody and full history of the sample. It meets all regulatory requirements and guidelines e.g. UK Drinking Water Inspectorate (DWI), MCerts, EA and the Food Standards Agency. Systems also take full advantage of those highly automated systems like LIMS already in place in laboratories.
CSols Remote Sampler is helping Intertek in the Netherlands monitor Dutch Blue Flag beaches – Click here to read the case study.
Remote Sampler is now available on ruggedized Windows Tablet PCs. For further information or a demo please email us at:
enquiry@csols.com
Clinical Systems Integration and Automation
There continues to be increasing interest in linking LC-MS/MS instruments to LIMS or LIS systems used in Hospital based laboratories.
This is due to the improved running costs, flexibility and capability of this technique compared to other methods. 
Clinical biochemistry laboratories need to be able to produce quality results
quickly and economically, with consistent turnaround times, to clinicians and patients alike and to meet the requirements of accreditation bodies such as UKAS and ISO15189. We have implemented our Links for LIMS and AqcTools software for a variety of instruments interfaces. 
Click here to see the poster about CSols routine, transcription error free, interfacing of a Hospital LIMS, instrument and a Tecan robot at Heartlands Hospital, Birmingham
.
labPortal – A Web Portal for remote data access to your LIMS
Would you like all your sample data at your fingertips for your staff, customers or to meet ITT requirements?
labPortal
is a web based portal that stores all your sample data in the cloud providing easy access for your customers and users.
No more phone calls required to get those test results to your customer!
With labPortal your clients and users have instant and secure online access to sample data and associated documents and can track the status of their analyses without reverting to picking up the phone to speak with you. For further information or a demo please email us at:
enquiry@csols.com
Technical Corner
As always
,
we are working on enhancements to Links for LIMS
,
that help provide improvements in efficiency and quality in the laboratory. Here are some details from updates that we have completed over the last few months.
Extended calculations
Even if using a LIMS system more and more of our customers want to perform calculations in Links for LIMS to help validate their results. Traditionally this has included automatically factoring the results with dilution factors or weights or carrying out blanks corrections. However, we have recently extended Links for LIMS to be able to perform more complex 'IF THEN' conditional calculations, as well as being able to use data pulled from LIMS. e.g. performing calculations across a range of results and using results from other tests which have being generated during setup.
CSols software engineers recently completed a new bidirectional serial driver for the Thermo Gallery discrete analyser. This Links for LIMS driver gives a new level of access to the instrument providing improved automation. Other work with Thermo instruments has also seen successful connections to the new Aquakem 600 Prime discrete analyser.
Roche PSM link
QC updates have been added to the Links for LIMS driver for connecting to the Roche PSM middleware system. This extends its usefulness in Biochemistry Laboratories and help consolidates all QC results data in PSM.
Agilent MassHunter
We have also created or updated Links for LIMS drivers for Agilent's Masshunter
and the Hach Lange spectrometer. These drivers have been implemented in busy laboratories. They have simplified operation during setup and extended use where multiple measurement units are used across different methods, and where flagging of internal standard failures is required when approving results.
CSols RFID labelling solutions for laboratories
We continue to extended our expertise into the field of Radio Frequency Identification or RFID labelling.
Although this technology has been around for many years, barcode based labelling is the main technology used in laboratories, however RFID has a number of advantages which could provide major time and efficiency savings.
We work with organisations that are regulated by UKAS, FDA, GLP, GCLP, DWI, EA, ISO, BS, NEN and other National and International guidelines. 
Cost Justification / Improved Quality of Results
CSols
can
reduce your operating costs and turnaround times by increasing the numbers of samples processed per analyst or instrument and improving result quality. If your laboratory has any bottlenecks or areas where large amount
s
of manual transcriptions are affecting productivity or quality we'd be delighted to be of help. Prices for our solutions vary upon the scope and can range from hundreds to thousands of pounds where a return on investment on purchasing our software can be less than 3 months.
At CSols we create and implement laboratory software applications that help laboratories improve results quality, cut down on paper transcription and its associated errors or mundane file transfers in their laboratory workflows. CSols has over two decades of extensive experience handling analytical instrument data together with labelling, barcodes, RFIDs, robotic systems, autosamplers, balances, spreadsheets, LIMS and handheld PDA and tablet PC systems for both internal and external sample collection.
Further Information
If any of the above products, solutions and features might help you and your laboratory, please contact us at
enquiry@csols.com
or call us on [44] 1928 513535 or complete our enquiry form or scan the QR code below:
Copyright © 2013 CSols Ltd. All rights reserved.
CSols Ltd is registered in England and Wales.
Company Registration Number 3918227. VAT Number 539 6933 95
---
           You are an intended recipient of this email. To stop receiving this correspondence please click the link below.